Site Clearance Services
Whether your site is a single small plot with only a few trees to be pruned and shaped, or a large multi plot site with significant trees to be cleared – we can offer a service to suit. We are fully insured and can supply method statements and risk assessments in accordance with your specific requirements.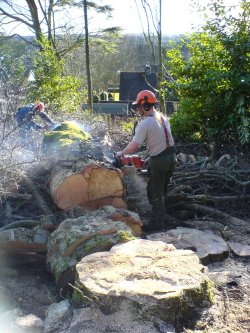 Assistance With Council Applications
We have a sound knowledge of the planning system and can work with your legal team to obtain permissions. We can undertake site meetings and argue your case with tree officers. It is often easier to have a professional argue for your case for you.
Rapid Turn Around
If you are on a tight deadline and need a site clearance undertaking quickly and safely we can often change our priorities and increase resourcing on one particular project.
Complete Debris Removal
The debris generated from a site clearance is often unwanted "waste". In line with our environmental policy we endeavour to source a suitable point of reuse or recycle. If this is not practicable we relocate all debris to a suitably licensed facility. Whatever the final destination we ensure all debris is removed from site.
Stump Removal
Stumps are often a significant issue on sites, we can offer a range of services from single small stump removal with a stump grinder to complete stump and main root removal and reinstatement.